« Back to News
January 6, 2023
Meet Erin Lum: January Employee of the Month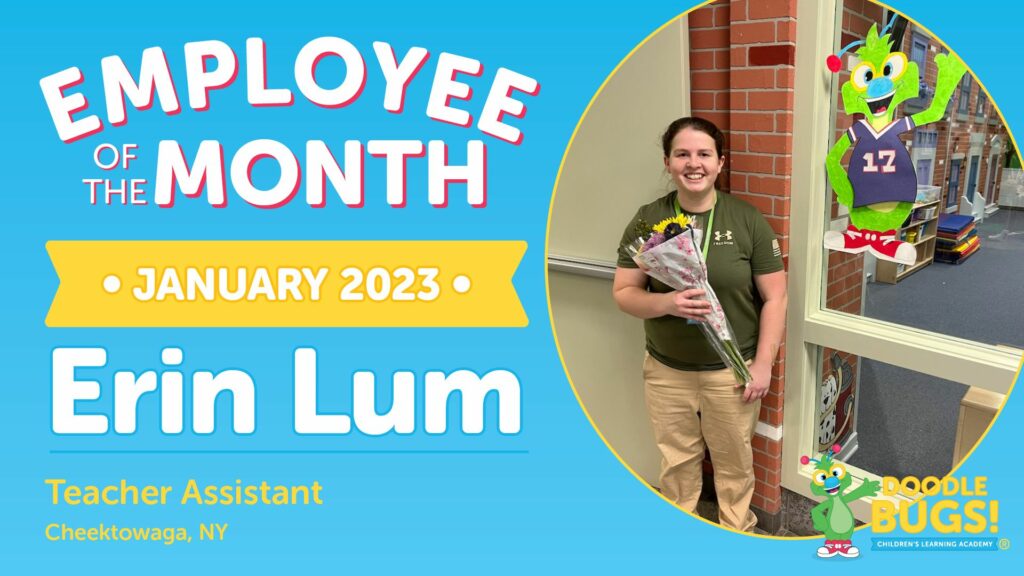 We are happy to announce Erin Lum as our Employee of the Month for January 2023! Erin is a Teacher Assistant at the Cheektowaga location and has been part of the Doodle Bugs! team for a year and a half. Erin exemplifies everything that a Doodle Bugs! team member should be. Erin delivers a personalized experience during pick ups by sharing a special tidbit from each child's day. She provides information about activities the children enjoyed and shares experiences she had with the children personally.
Erin floats to various classrooms during the day and knows the importance of effective communication with both coworkers and families. She demonstrates operational excellence by taking ownership of daily reports and is sure to ask questions regarding any necessary follow up. Erin performs as one team with her coworkers and is always on time, willing to come in early, or happy to stay late. No matter what room she is in, Erin makes sure to have curriculum prepped and ready for the children. Whenever and wherever you need her, she is eager to jump in with a smiling face!
Erin is the prime example of a reliable, trustworthy, and caring employee. We couldn't be more proud to have her as a member of our Doodle Bugs! team.