Tuition Rates
At Doodle Bugs!, we believe in keeping parents in the loop. We know that choosing a child care center is an important decision with many considerations. It's why we are always transparent about cost.
How It Works
There's no fine print here, but various factors will affect tuition:
The location of your selected Doodle Bugs! Children's Learning Academy
The number of children attending
The program your child(ren) will be enrolled in
The number of contracted days (2, 3 or 5) for attending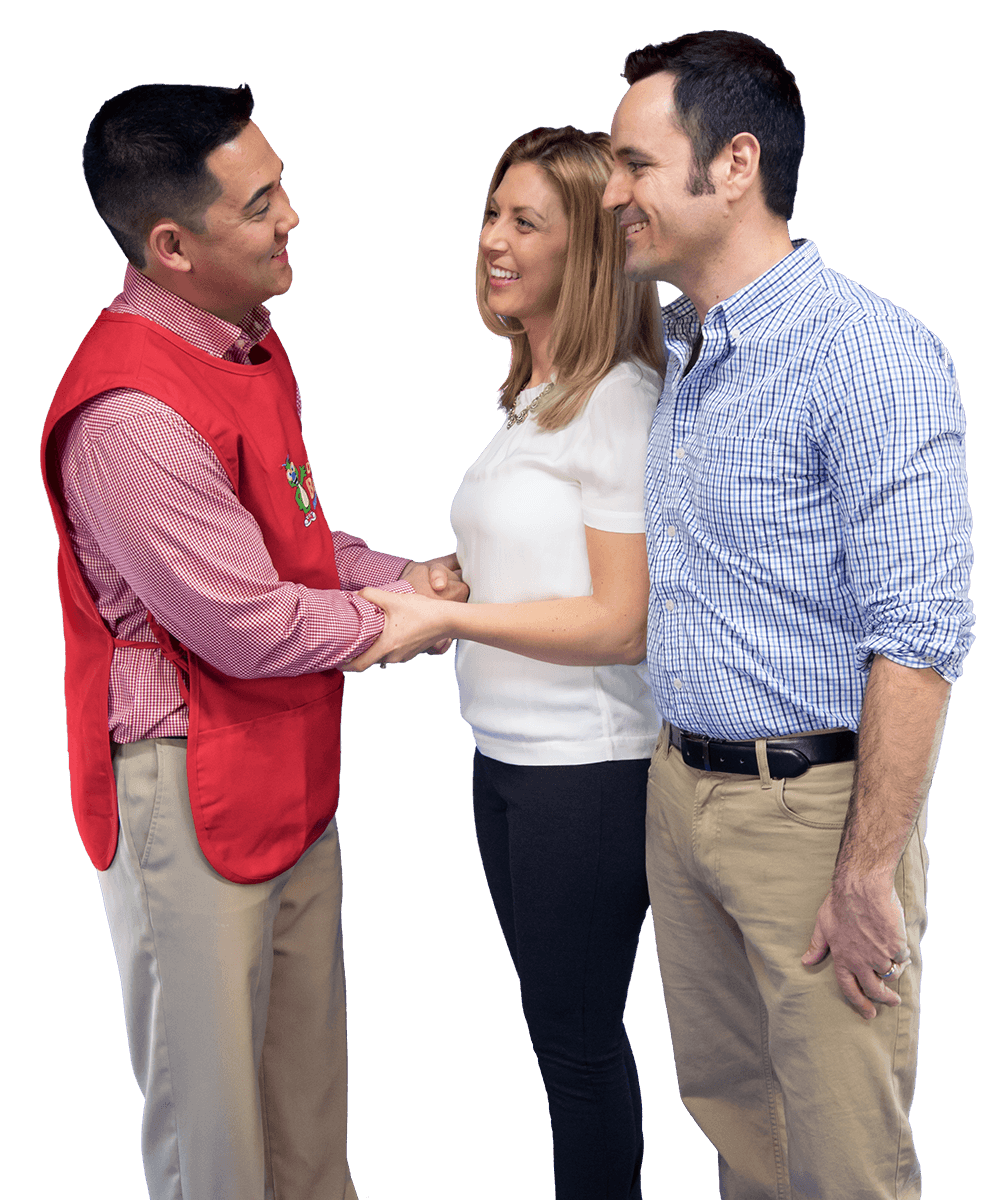 Tuition Calculator
It's easy to calculate the estimated tuition cost for your family.
Your Estimated Tuition at
---
$---
per week
Program Pricing
Our parents can always see the tuition costs across locations, programs and contracted days.
When you compare rates, policies and program features, the value of the Doodle Bugs! experience is clear.
Scroll to see more rates →
Program

Cheektowaga View Tuition Sheet

Clarence View Tuition Sheet

East Amherst View Tuition Sheet

Lancaster View Tuition Sheet

Orchard Park View Tuition Sheet

West Amherst

Days per week

5

3

2

5

3

2

5

3

2

5

3

2

5

3

2

5

3

2

Infant (6 weeks - 18 months)

$389

$267

$178

$409

$282

$188

$409

$282

$188

$389

$267

$178

$409

$282

$188

$389

$267

$178

Toddler (18 - 36 months)

$379

$258

$172

$389

$273

$182

$389

$273

$182

$379

$258

$172

$389

$273

$182

$379

$258

$172

Preschool (3 - 4 years)

$349

$237

$158

$359

$246

$164

$359

$246

$164

$349

$237

$158

$359

$246

$164

$349

$237

$158

Pre-Kindergarten (4 - 5 years)

$339

$234

$156

$349

$243

$162

$349

$243

$162

$339

$234

$156

$349

$243

$162

$339

$234

$156

UPK Wrap Around Program

$199

School Age (5 - 12 years)

---

---

---

---

---

---

---

---

---

---

---

---

---

---

---

---

---

---

— Before School (5 - 12 years)

$109

$75

$50

$109

$75

$50

$109

$75

$50

$109

$75

$50

— After School (5 - 12 years)

$166

$111

$74

$166

$111

$74

$166

$111

$74

$166

$111

$74

— Before & After School (5 - 12 years)

$189

$126

$84

$189

$126

$84

$189

$126

$84

$189

$126

$84

— Full Days - School Breaks (5 - 12 years)

$280

$186

$124

$280

$186

$124

$280

$186

$124

$280

$186

$124

$280

$186

$124

$280

$186

$124
Program

Brighton View Tuition Sheet

Greece View Tuition Sheet

Henrietta View Tuition Sheet

Penfield View Tuition Sheet

Victor View Tuition Sheet

Webster View Tuition Sheet

Days per week

5

3

2

5

3

2

5

3

2

5

3

2

5

3

2

5

3

2

Infant (6 weeks - 18 months)

$408

$282

$188

$402

$276

$184

$408

$282

$188

$408

$282

$188

$389

$270

$180

$408

$282

$188

Toddler (18 - 36 months)

$394

$273

$182

$388

$270

$180

$394

$273

$182

$394

$273

$182

$374

$261

$174

$394

$273

$182

Preschool (3 - 4 years)

$372

$252

$168

$366

$246

$164

$372

$252

$168

$372

$252

$168

$352

$240

$160

$372

$252

$168

Pre-Kindergarten (4 - 5 years)

$360

$249

$166

$355

$237

$158

$360

$249

$166

$360

$249

$166

$340

$237

$158

$360

$249

$166

School Age (5 - 12 years)

---

---

---

---

---

---

---

---

---

---

---

---

---

---

---

---

---

---

— Before School (5 - 12 years)

$109

$75

$50

$109

$75

$50

$109

$75

$50

$109

$75

$50

$110

$78

$52

$109

$75

$50

— After School (5 - 12 years)

$166

$111

$74

$166

$111

$74

$166

$111

$74

$166

$111

$74

$156

$105

$70

$166

$111

$74

— Before & After School (5 - 12 years)

$189

$126

$84

$189

$126

$84

$189

$126

$84

$189

$126

$84

$179

$120

$80

$189

$126

$84

— Full Days - School Breaks (5 - 12 years)

$280

$186

$124

$280

$186

$124

$280

$186

$124

$280

$186

$124

$270

$180

$120

$280

$186

$124
Program

Mars View Tuition Sheet

McCandless View Tuition Sheet

Southpointe View Tuition Sheet

Days per week

5

3

2

5

3

2

5

3

2

Infant (6 weeks - 12 months)

$430

$297

$221

$430

$297

$221

$430

$297

$221

Toddler - Younger (12-24 months)

$395

$285

$212

$395

$285

$212

$395

$285

$212

Toddler (24 - 36 months)

$385

$279

$196

$385

$279

$206

$385

$279

$206

Preschool (3 - 4 years)

$365

$264

$196

$365

$264

$196

$365

$264

$196

Pre-Kindergarten (4 - 5 years)

$360

$261

$193

$360

$261

$193

$360

$261

$193

School Age (5 - 12 years)

---

---

---

---

---

---

---

---

---

— Before School (5 - 12 years)

$109

$75

$50

$109

$75

$50

$109

$75

$50

— After School (5 - 12 years)

$166

$135

$90

$166

$135

$90

$166

$135

$90

— Before & After School (5 - 12 years)

$189

$145

$98

$189

$145

$98

$189

$145

$98

— Full Days - School Breaks (5 - 12 years)

$315

$237

$158

$315

$237

$158

$315

$237

$158
Program

Lakewood Ranch View Tuition Sheet

Days per week

5

3

2

Infant (6 weeks - 12 months)

$389

$260

$200

Infant - Older (12 - 24 months)

$364

$250

$191

Toddler (24 - 36 months)

$359

$242

$185

Preschool (3 - 4 years)

$339

$230

$176

Pre-Kindergarten (4 - 5 years)

$329

$224

$169

VPK Wrap Around Program

$264

$185

$140

School Age (5 - 12 years)

---

---

---

— Before School (5 - 12 years)

$99

$69

$46

— After School (5 - 12 years)

$145

$102

$77

— Before & After School (5 - 12 years)

$161

$117

$87

— Full Days - School Breaks (5 - 12 years)

$255

$177

$134
Program

Oviedo View Tuition Sheet

Days per week

5

3

2

Infant (6 weeks - 12 months)

$356

$244

$192

Infant - Older (12 - 24 months)

$335

$235

$183

Toddler (24 - 36 months)

$325

$228

$177

Preschool (3 - 4 years)

$309

$216

$168

Pre-Kindergarten (4 - 5 years)

$297

$211

$161

VPK Wrap Around Program

$247

$172

$132

School Age (5 - 12 years)

---

---

---

— Before School (5 - 12 years)

$99

$69

$46

— After School (5 - 12 years)

$145

$102

$77

— Before & After School (5 - 12 years)

$161

$117

$87

— Full Days - School Breaks (5 - 12 years)

$255

$177

$134