« Back to News
January 31, 2012
Doodle Bugs! Team Tuesday: Issue #96
In today's edition of Team Tuesday, Mr. Doodle Bug extends special thanks to each and every member of the doodle community. We're proud to announce that for the third consecutive year, Doodle Bugs! is listed on
theprestigious Exchange Magazine's Top 50 List of Child Care Organizations in North America. Doodle Bugs! ranked the highest of all Upstate New York programs.
For the past thirty years, Exchange has been chronicling the history of and trends in the early childhood profession. Exchange Top 50 Lists are now regarded as the Fortune 500 of early childhood. Doodle Bugs! is proud to be recognized by an organization that regards early childhood education with the same passion and dedication that is exemplified through our own curriculum, standards and faculty.
Doodle Bugs! Children's Centers is locally owned and operated, with six centers in Buffalo and three in Rochester. The tenth center will be built this summer in Pittsburgh, PA, and their first franchised location is currently under construction in Victor, NY. CEO Anthony Insinna and his sisters, Clarine Insinna and Anna Insinna Zavatti, established the company in 1992 in East Amherst.
"From the very beginning, our goal was to reinvent child care in Western New York. At our 20th Anniversary benchmark, we serve more than 2000 happy families and I attribute that to our team's commitment to excellence and providing the best possible child care services," remarked Anthony Insinna. "Our continued vision is to be a true role model for all high quality programs."
For the complete list of the Exchange Top 50 and for more information on this early childhood publication, please visit their website at www.childcareexchange.com.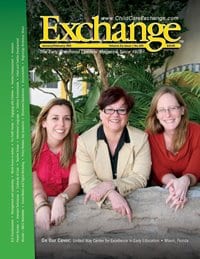 About Exchange Magazine
Exchange Press, Inc. has promotes the exchange of ideas among leaders in early childhood programs worldwide through Exchange magazine, books, and training resources. They are committed to supporting early childhood professionals worldwide in their efforts to craft early childhood environments where adults and children thrive.