« Back to News
October 25, 2019
Bringing Doodle Bugs! Play Home: Push Track
Contributed by: Jennifer Horner, Director of Education
We're so thankful for November! This month is one of our absolute favorites with so many fun Doodle Traditions like our annual Turkey Trot, celebration of friends and community at our Thanksgiving Feast, and our highly acclaimed day after Thanksgiving PJ Party!
Another exciting element of our November program is a tried and true activity that we revisit often in our Bravo! Curriculum — the push box! Duplicating this at home is a great way to create meaning connections to school while nurturing your child's ambitious curiosity. Did we mention this one also is an excellent way to channel and release all of that BIG energy?
Materials:
An empty box with lid, something to weigh it down (books, toys, reams of paper, anything goes!), some packing tape to secure any sharp edges, painter's tape to define a track (optional). You may also want to consider securing some felt or fabric if you have any concern about the box possibly scratching hardwood floors.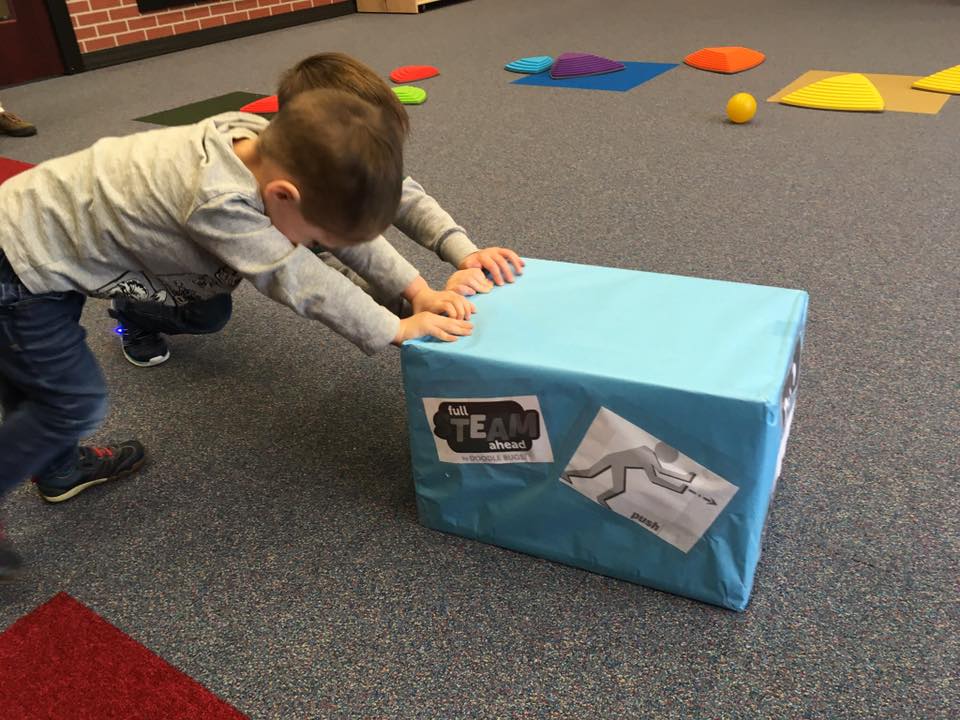 Prep:
Weight the box just enough so that your child can push the box with some effort – without overly challenging them. Secure the lid and push away! Some children will take this one step further and want to unload and reload the contents in the box.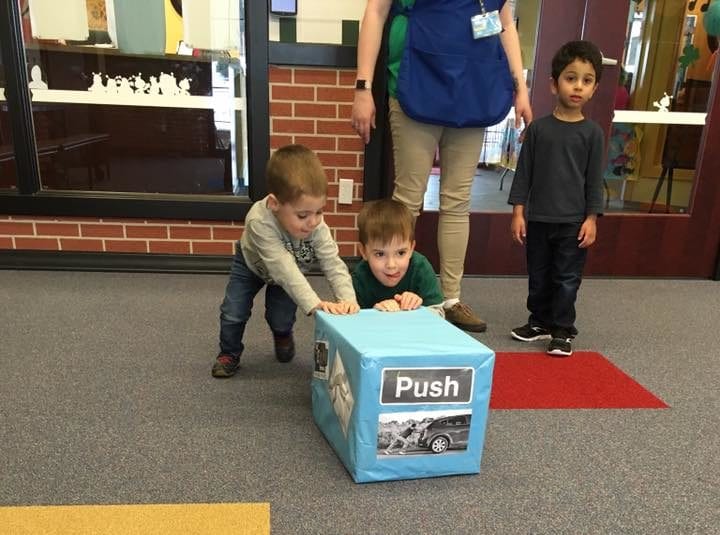 Your role:
Simply narrate your child's actions as they tackle this challenge to validate and encourage their efforts while adding a few questions to prompt their thinking. "You're making the box move using your whole body. I see your legs and arms working hard. Is it easier to push the box or pull the box?"
Extensions
Use the painter's tape to define a track that has a variety of directions and lines (straight lines, curved lines, zig zag) for the weighted box to be pushed through.
Suggest taking a stuffed animals or doll for a ride through the track.
Developmental Skills in Action
Physical Well-Being, Motor Development: When children engage in this activity, muscle strength and coordination are being exercised while navigating a space safely. Synchronizing their body and the weighted box together in a space also boosts their spatial awareness.
Approaches to Learning: Approaching a simple weighted box and testing its possibilities is encouraging curiosity and initiative, while moving the box with its resistance nurtures persistence!
Social-Emotional: Children will be prompted to regulate their emotions as they encounter obstacles along the way. Their coping mechanisms and problem solving skills are gently tested in a fun way. They'll also have opportunities to build self-confidence in completing their mission! They'll also learn that this activity is something safe and appropriate that they can do when they feel the need to release some big energy.
Cognition and General Knowledge: Angles, depth, cause and effect, critical thinking, comparison… there are SO MANY early math and science skills in action.
Language and Communication: When your child is playing with the push box independently and muttering words like push, go, there, or any other words that add description or direction, expressive language is being used. When you join in with more descriptive words and questioning, you're building their vocabulary and understanding of how the rhythm of conversation and language works!
If you give it a try at home, make sure to show us @doodlebugsusa!