« Back to News
October 8, 2019
Parenting in an Increasingly Digital World
Contributed by: Lauren Wierzbicki, Education Specialist
Parenting in the 21st century is hard. We are all trying our best to raise our children with one particularly daunting hurdle that our own parents didn't have – modern technology. Our children have more exposure to technology than we did as children, growing up in a world where iPhones, tablets, and Netflix have always existed.
It's not something that we can ignore – technology is a part of our lives that our children see us using every day.
How do we balance the exposure to technology – so our children grow up to be competent and safe users – but still encourage them to play, be creative, read books, and develop all of the other important skills that they need?
How much is too much?
If we look at what The American Academy of Pediatrics (AAP) recommends, they suggest limiting screen time for children ages 2-5 to 1 hour a day. They go on to emphasize that the quality of the screen time is important, too. An engaging, educational television show or app, or using the screen for video calls with family members, are more beneficial to children than video games or passive viewing.
So, here's what that "balance" of technology exposure looks like in a Doodle Bugs! classroom.
Tablets are incorporated in classrooms for children 3 and up. Children use tablets as tools to accompany hands-on play, something that can easily be replicated at home, too.
Selfie Portrait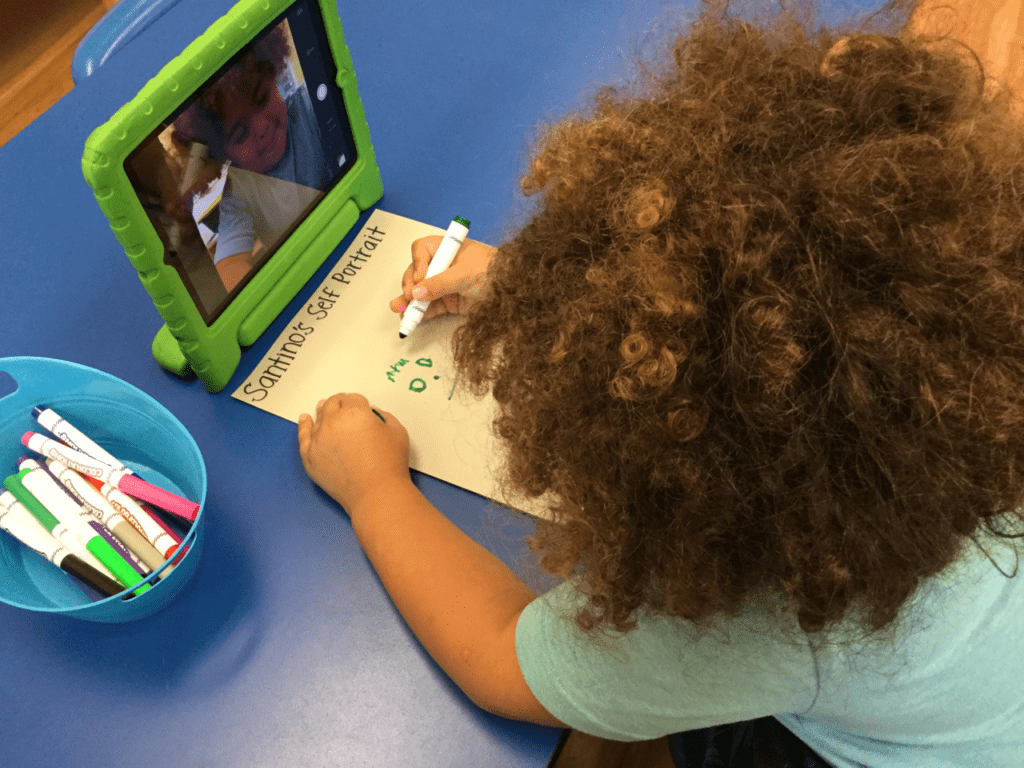 Turn the camera on selfie mode, and set children up with paper and drawing materials. They can use the screen to see their faces and draw a self-portrait!
---
Art Aid
Use the tablet to display pictures of things that children are
interested in – they can use it as a reference while they are creating
art.
---
Slow Mo Science

Use the slo-mo function on the tablet's camera app to record your child dropping two items from a height. After, your child can review the footage to see which item falls fastest and hits the ground first, introducing early math and science concepts like gravity, acceleration, and mass. (If there is no air resistance, both objects will fall at the same speed!)
---
Hands-On Technology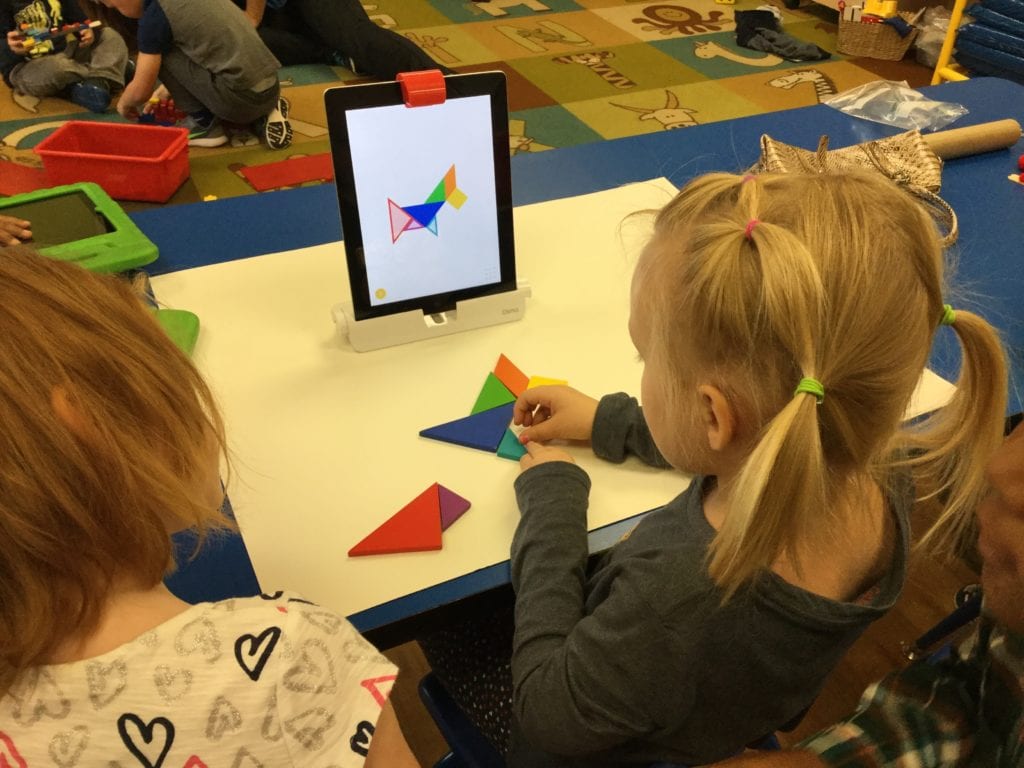 One of our favorite set of apps is the OSMO Learning System. The OSMO games combine the tablet with a hands-on learning experience and can be played with more than one child at a time, adding a social element – in the picture here, children are building with the OSMO Tangram app. You can
learn more about OSMO at the link here!
---
Find a routine that works for you.
Determine what you think will work for your family – you know your child best and you know how much screen time they can handle. Make it a part of your routine (and stick to it!) so that your child knows what to expect and can handle their emotions when it is time to move on to something else.
Personally, that meant moving our 3 year old's television time away from bedtime. We wanted her to have the exposure to television but when screen time was over, there was constant negotiation to watch more and meltdowns as we tried to get her ready for bed. We didn't want to take it away completely, and knew that we had to find a balance.
Our solution was to allow her one television show of her choice for 30 minutes while we clean up dinner. After 30 minutes, the TV is turned off and she plays until her bedtime. She knows what to expect and it has made the nighttime routine better for us all.
If your first attempt at a routine doesn't pan out after a two-week trial, adapt and try again. All that we can do as parents is to keep trying and help our children learn to make smart technology choices, engaging with them as they're consuming technology, and encourage a balance with other parts of life.
Here's a few more of our favorite apps at Doodle Bugs!: