« Back to News
September 28, 2018
STEAM: Focus on the Future
Contributed by Alison Tweedie, Education Specialist
STEAM has emerged as a significant buzz word in the world of education. STEAM stands for Science, Technology, Engineering, the Arts, and Math. From Early Childhood experiences  all the way through college we hear about this push to engage children and young adults, especially girls, in STEAM. This push is driven by a desire to focus heavily on the cognitive skills of math, science, and technology in preparation for the future. With all the hype, one might wonder if these STEAM programs produce desired educational outcomes, especially in the field of early childhood where our children are learning about themselves and how to get along with others.
Why STEAM?
Traditionally, the purpose of school has been to educate children and prepare them for their future roles as parents, co-workers, and contributing members of society. However, the jobs of the future have changed drastically in recent years. The World Economic Forum reports that an estimated 65% of our children will have jobs that don't exist yet. Jobs like 'App Designer,' 'Social Media Manager,' and 'Cloud Architect' did not exist 15 years ago, and have the potential to bring in a six-figure salary. How do we provide children with the skills they need to prepare them for the unknown? The World Economic Forum asked managers of the world's leading companies what the most important job skills would be in the year 2020- the top responses included: critical thinking/problem solving, creativity, collaboration, communication, and emotional intelligence. These skills have come to be known as "The 4 C's." In his blog, Wan Tsau states, "If properly imparted on our young children, these skills will provide them with the necessary advantage to maneuver in the AI [Artificial Intelligence] and technologically fueled job market of the future."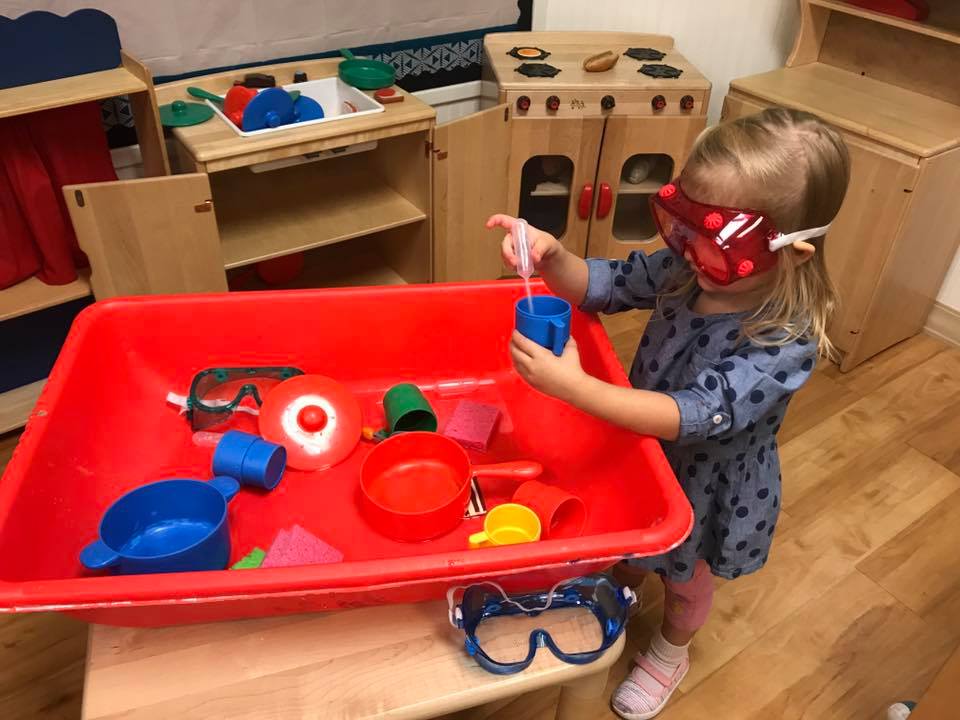 How do we "properly impart" these skills on our young children? Numerous research studies and reports have found links between play and the positive development of "The 4 C's." What does that look like in an Early Childhood classroom? Here are a few examples:
Creativity: Individualized, open-ended, child-led, self-expression through art, music, nature, or physical movement.
Collaboration: Children working together and playing in the dramatic play center, on the block carpet, during art experiences, or outside on the playground.
Critical thinking: Listening to stories, asking and answering questions, building, open-ended journaling, or the investigation of new manipulatives or tools.
Communication: Talking with peers and teachers; teacher narration; modeling of social skills through puppets, stories, or pretend play; discussion during group gathering times.
STEAM and Doodle Bugs!
Due to our strong belief in the power of play, Doodle Bugs! has chosen to integrate STEAM through play. We believe technology should intentionally support and extend the learning experiences in which children are naturally engaged. Our Doodle Bugs! Curriculum incorporates daily STEAM activities into our Toddler, Preschool/ PreK, and School Age lesson plans. These activities are supplemented by monthly STEAM Labs (an enrichment program facilitated by a member of center management) in our Preschool and PreK classrooms. The activities children participate in, both during lesson plan activities and STEAM Lab experiences, are not very different from our previously existing educational program. The difference is the emphasis on supporting children's natural curiosity. Children at Doodle Bugs! have been exploring science, technology, engineering, art, and math throughout their Doodle Day since our first center opened in 1992; through our STEAM focus we can implement these concepts with increased intention, vocabulary, and open-ended inquiries that encourage children to think deeper. What some refer to as "Genius Hour," (an hour in which children get to explore projects of their own) we call Centers– and it happens all day long. Why? Because children learn when they are interested and engaged in a topic of their choosing. Our teachers integrate all domains of learning into children's play, with a strong emphasis on social and emotional skill building—growing the skills of the future.
STEAM at Home
If you want to support STEAM learning at home, try these simple and effective activities with your child:
Walk: Go for a walk in nature. Talk about what you see, hear, and feel. Look at things up close with a magnifying glass or binoculars (if you have them).
Create: Bring open-ended materials into your home. Things like blocks, corks, playdough, paint, chalk, crayons, and cardboard boxes. These materials have no specific definition so they can become anything a child imagines.
Talk: Ask questions that start with what, why, and how; use phrases like, "I wonder…" or "I noticed…;" listen, respond, repeat.
Read: Talk about the pictures, ask questions about the characters, and discuss characters' feelings.

Want More?
To learn more about STEAM and its implementation in our educational program, as a parent or as an educator, we invite you to visit our annual Fall Open House Wednesday, October 3, from 5:30-7:00pm.