« Back to News
June 13, 2019
Men in Early Childhood Education
Contributed by: Colleen Nolan, Center Director at West Amherst
Having worked in Early Childhood Education for over 30 years, I have always been intrigued by men working in this predominately female field.  Recently, I have had the opportunity to add several men to my team of teachers.  This provided the perfect opportunity for me to observe, and to put into words, their experiences and thoughts.
I sat down and had meaningful conversations with these gentlemen.  I posed a series of questions to get their perspectives on working with young children and the impact they feel it has on the early learning and growing years.
Let's jump right in and hear what they have to say.
Unanimously, when I asked what led them to early childhood education their immediate answer was a love for children.   Shelbi states, "I love their innocence and just love helping them learn."  He goes on to say, "I get to engage with the children.  I underestimated them but now realize how smart they really are."
They also agree that having a male teacher can have a profound impact on young lives.  Clayton states, "Men in early childhood can provide a positive male role model that some children may not have at home." He goes on the say "children respond differently to me versus my female assistant."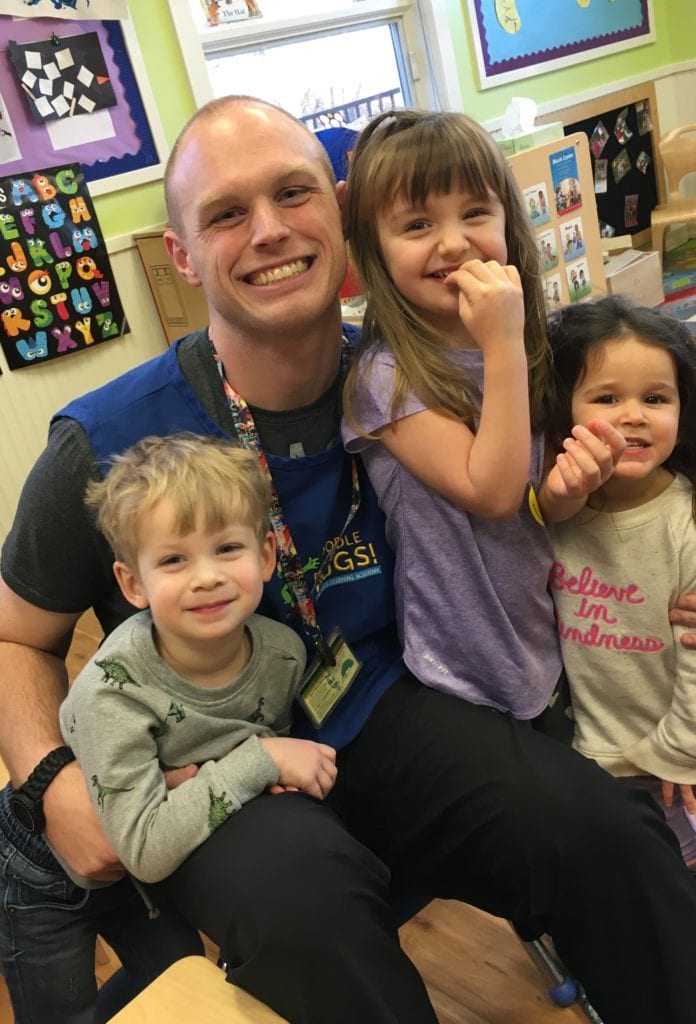 Allie G., a teacher and mom of two boys told me "It is beneficial to see men in a caregiving role. This sends a strong message that both men and women can provide what children need. They are loving, nurturing and supportive people which is great for society as a whole."   Kenrick supports this statement, "They get a fatherly aspect.  It's good to nurture, it's good to care and that is good for children to see coming from a man."
While there are lots of beautiful similarities, we all agreed that there are some important differences too. Men have added a more "active" narrative to the classroom and daily routine.  "Children, young boys in particular, need to move, be louder, jump from one activity to another… men understand this need for movement.  We are never done playing, even as adults" observes Allie G.
"Boys especially need to move around.  That was how my father was with me and I have definitely benefited from the more physical activities we engaged in together as I was growing up" adds Kenrick.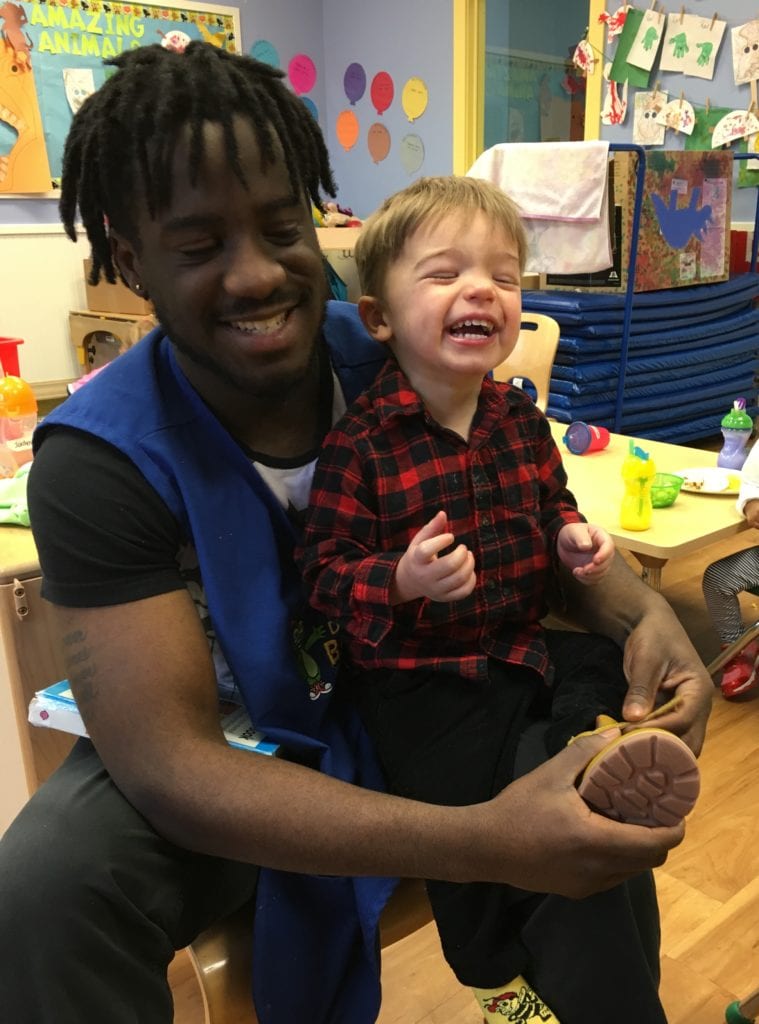 In a field that is predominantly women, I continued our conversation by asking them what they would say to other men who might be interested in working with young children.  "It's the most fun you would ever have at work" says Shelbi.  "Jump right in and do it!  Don't worry about what others might say or think.  Do what you love" Clayton added.  "It is a challenge.  They (women) are not used to us (men) in this field and it can be difficult at first.  Stick with it because it does get easier" said Billy.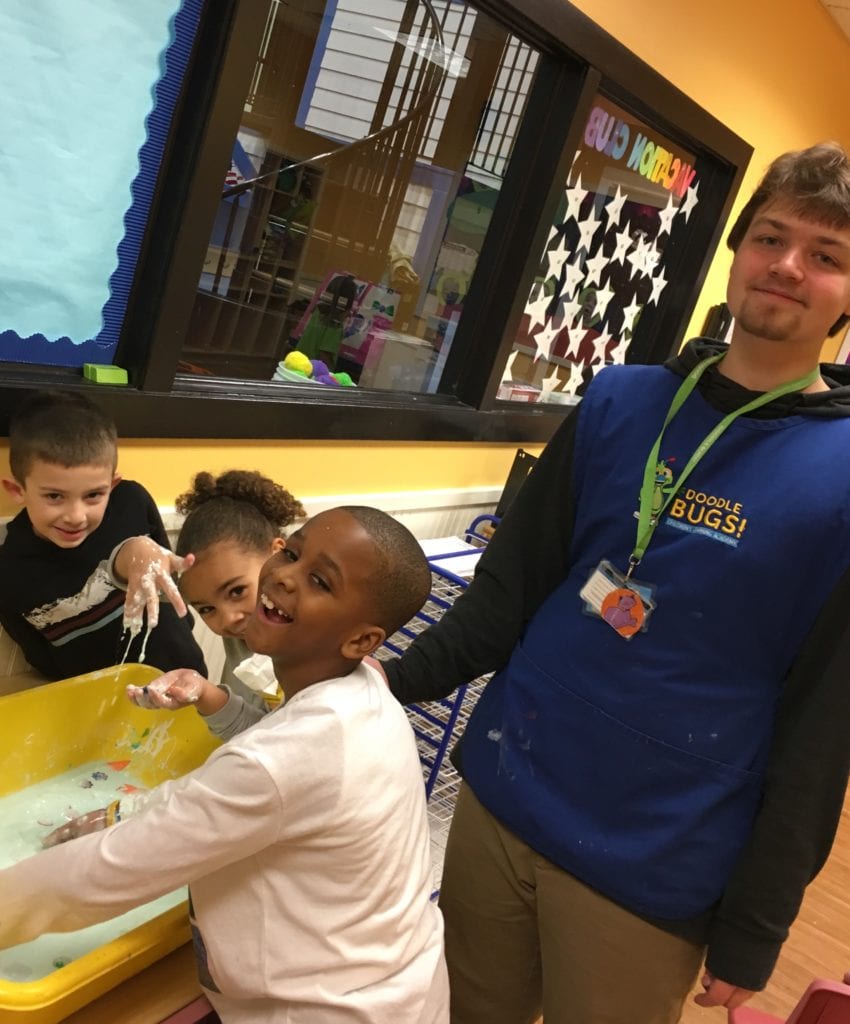 Finally, we talked about what they feel the biggest reward has been, working with young children.  I find it important to note that as each of these men answered, they had the biggest smiles on their faces.
"The hugs from the kids, hearing them shout Hi Mr. Billy! when they see me – it puts a smile on my face every day.  Their excitement makes me happy!" – Billy
"I get to be myself interacting with the kids… I am just a big kid myself, I can have fun!" –Shelbi
"The love I get back from the kids.  It gives me good energy.  They like me being there and that is a positive feeling… I am a role model." – Kenrick
"Seeing them grow from start of the year to finish. Seeing them achieve milestones." – Clayton
As the Center Director, I have seen a confirming impact on both the children and these exceptional young men.  There is a different yet positive atmosphere present when these two groups collide.  As educators of young children, we want to see them grow, but I have also watched these men grow – each in different ways.  I believe they have been and will continue to be a positive and moving force in the lives of young children, no matter what paths life leads them on, for many years to come.
Let's meet the guys!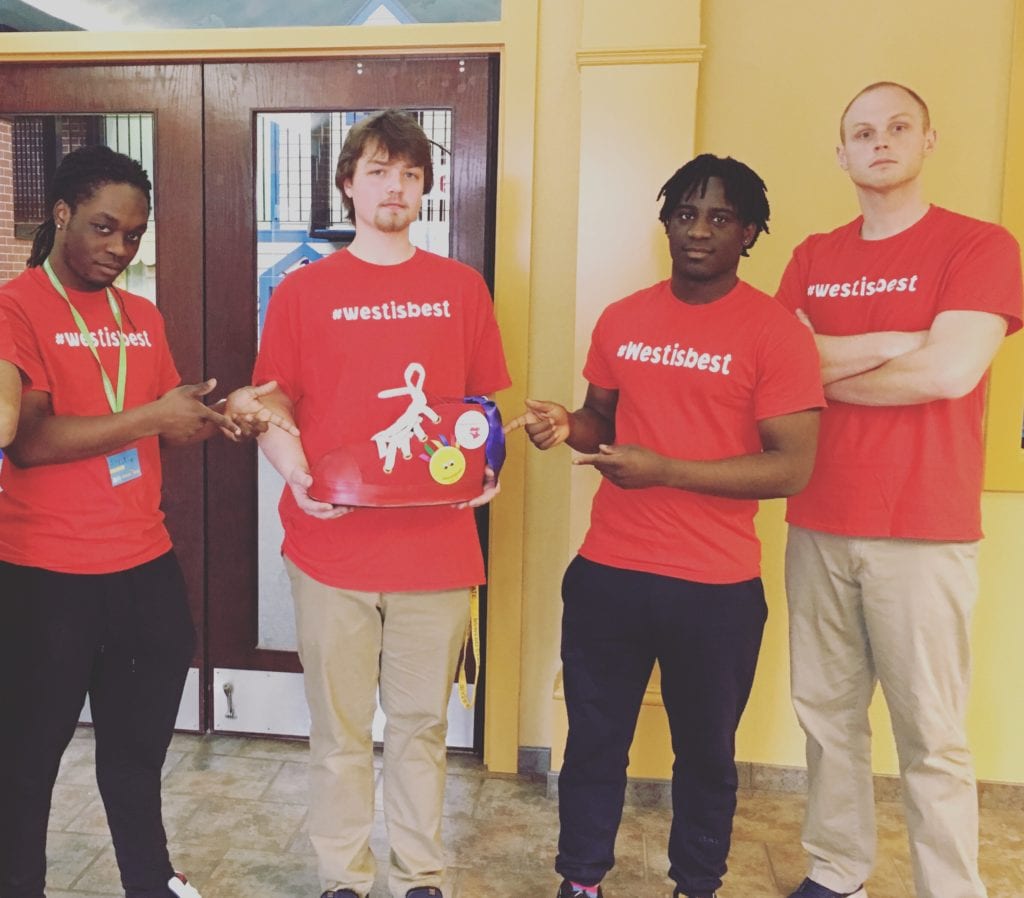 (left to right)
Shelbi M. recently graduated from the University at Buffalo with a degree in pre-law and has been accepted into the University at Buffalo –  School of Law.  He is leaning toward family or immigration law.  He states his experience working with children will benefit him in both these areas.  Shelbi works with our Pre-K groups.
Billy S. is an Early Childhood major at Buffalo State College.  He began his education pursuing Adolescent Education but his experience with young children prompted him to change his focus.  Billy works with our school age children.
Kenrick B. is an Environmental Design major at University at Buffalo.  When I asked how his experience working with children will benefit him in his chosen field, he expressed that it has taught him patience, and has enhanced his socialization and communication skills. Kenrick works with our Pre-K children.
Clayton S. holds a Bachelor's Degree in Math and Special Ed and  Masters Degree in Literacy from Niagara University.  He has always wanted to teach.  He is a Lead Teacher for our Preschool group.